Cultivating and Transmitting the Spirit of Budo ~A Re-evaluation of Budo Decorum~
Home »
Mr.Seijun Ninomiya
Mr.Seijun Ninomiya
Sports journalist. Director of Sports Communications Ltd.
Profile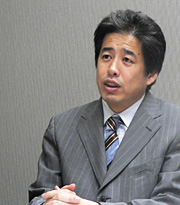 Mr. Ninomiya was born in Ehime prefecture in 1960.
After having worked as a journalist for sports and distribution magazines Mr. Ninomiya now works independently as a free journalist. His wide and expanding activities within Japan as well as abroad include coverage of the Olympic Games, World Soccer Championships, Major League Baseball and Boxing World Championship fights.
In June of 1999, Mr. Ninomiya established the internet magazine 'Sports Communications' (http://www.ninomiyasports.com). Furthermore, in April of 2006, he launched his own mobile website '二宮清純.com'(http://ninomiyaseijun.com)
Besides his activities as a sports journalist, Mr. Ninomiya also works on setting up sports clubs aimed at 'regions' and their 'inhabitants'.
Mr. Ninomiya is widely active as commentator for sports news programs and other news programs on TV. He is also regularly invited as lecturer.
---
Main Publications
Supotsu meishobu monogatari ("Famous Sports Matches"), Kodansha Gendai Shinsho
Saikyo no puro yakyu ron ("Strongest Professional Baseball"), Kodansha Gendai Shinsho
Shosha no soshiki kaikaku ("The Organizational Reform of Winners"), PHP Shinsho
Shosha no shiko ho ("Winners‣ Way of Thinking"), PHP Shinsho
Puro yakyu senryaku kaigi ("Strategical Meetings in Professional Baseball"), Kozaido Shuppan
Supotsu wo "miru" gijutsu ("The Technique of •Watching‣ Sports"), Kodansha Gendai Shinsho
Fowado naki nihon kakusa shakai ("Japanese Differential Society without Forwards"), Co-authored with Tsuyoshi Kimura, Nareeji Foa
1 Miri no taiga~Shin supotsu ron ("The Huge River of 1 ml ~ New Sports Theory"), Magazine House
600 Ji no fukei ("Landscape of 600 Characters"), Koshinsha
Mejaariigu wo 10 bai tanoshimu hoho ("Method to Enjoy Major League Baseball 10 Times More"), KK Best Sellers
Waarudo Kappu wo Yomu ("Interpreting the World Cup"), KK Best Sellers
"Cho" ichiryu no jiko saiseijutsu ("Revival Techniques of "World-level" Top Athletes"), PHP Shinsho
Puro yakyu saiban ("Professional Baseball Court Trials"), Gakuyo Shobo
Hito wo mitsuke Hito wo nobasu ("Finding People, Developing People"), Kobunsha Kappa Books
Hito wo ugokasu shosha no kotoba ("Winners‣ Sayings that Move People"), Tokyo Shoseki
Matenro no daggu auto ("Skyscraper‣s dug-out"), Pia
Nippon ga unda "Gojira" <Matsui Hideki> no jutsuryoku ("Japanese born "Gozilla" <Hideki Matsui>‣s Abilities"), Shogakkan
Tensai setta Nakata Hisami no zuno ("Genuis Setter Hisami Nakano‣s Brain"), Shinchosha
Puro yakyu "Jinsei no sentaku" ("Professional Baseball "A Career Choice""), Kozaido Shuppan
Yakyu to ginko ---- naze Nihon wa shippai shita ka ("Baseball and Banks ---- Why Japan has Failed"), Co-authored with Tsuyoshi Kimura, Toyo Keizai Shinposha
Shippai wo ikasu 12 no monogatari ("12 Stories in which Mistakes are made the Most of"), Kobunsha
Akkan tachi no puro yakyu ("Rogue Professional Baseball"), Okura Shuppan
Supotsu senshu •Mei goroku‣ ("Sports Athletes‣ •Famous Sayings‣"), Mikasa Shobo
Saikyo no waarudokappu kansen nooto ("Notes on the Best Worldcup Matches watched on TV"), NTT Shuppan
Shosha no jitsugaku techo 2005 ("Winners‣ Practical Science Notebook 2005"), NTT Shuppan
Do or Die ? Supotsu wa dare no mono ka? 21 seiki e no teigenshu ("Do or Die ? Who Owns Sports? Collected Suggestions for the 21st Century"), KSS Shuppan
Nihon puro yakyu kaizen keikaku ("Program for Improving Japan‣s Professional Baseball"), Nihon Hyoronsha
Kachikata no Bigaku ("The Esthetics of Winning"), Kodansha
Kiseki no riidaashippu ("Miracle Performing Leadership"), Shogakkan
Yume to toso --- Nomo Hideo no hankotsu jinsei ("Dream and Fight --- Hideo Nomo‣s Rebellious Life"), Za Masada (The Massada)
Makegumi no kiseki ~ TDK yakyubu koei e no 321 nichi ~ ("The Losers‣ Miracle ~ 321 Days to glory of the TDK Baseball Team ~"), Softbank Creative
Fu wo "to kin" ni kaeru jinzai katsuyojutsu ("The Art of Turning Pawns into Gold"), Co-authored with Yoshiharu Habu, Nihon Keizai Shinbun Shuppansha
Etcetera
Most recent publication
Puro yakyu no ichiryu tachi ("Professional Baseball‣s Top Players"), Kodansha Gendai Shinsho