Cultivating and Transmitting the Spirit of Budo ~A Re-evaluation of Budo Decorum~
Home »
Dr.Alexander Bennett
Dr.Alexander Bennett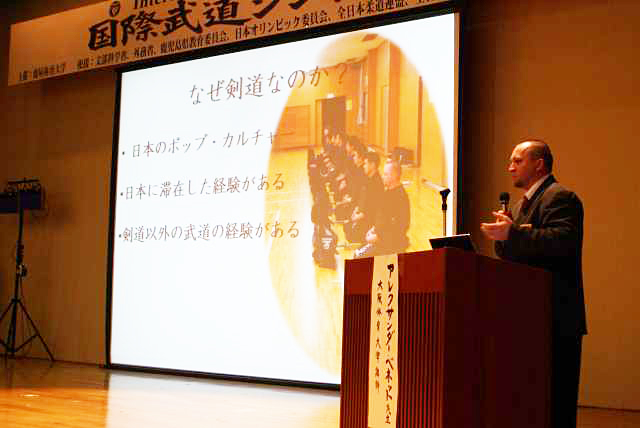 Dr. Bennett was born in Christchurch, New Zealand, in 1970. His first visit to Japan was in 1987 as an exchange student, which was also the time when he became deeply interested in bushido as a result of his first contact with kendo during club activities at a senior high school in Chiba prefecture. He has since come to Japan twice, making Kyoto his permanent residence.
After graduation from the University of Canterbury in 1995, Dr. Bennett has spent 5 years in Japan as a Monbusho scholarship student at Kyoto University. After receiving his MA from the University of Canterbury in 1997 (correspondence), he received his PhD from Kyoto University in 2001. His PhD thesis' subject was "Investigating a Definition of Bushido". In 2006, he entered the PhD curriculum at the University of Canterbury.
From 2002 until 2006, he performed research on the internationalization of budo while being employed as an assistant at the International Research Center for Japanese Studies. From 2006 until 2008, Dr. Bennett was employed as full-time lecturer at Teikyo University, where he taught "Japanese Traditional Physical Culture" and "History and Development of Budo", among other courses. At present, he is employed as a part-time lecturer at International Budo University, Nagoya University of Foreign Studies and Osaka University of Health and Sport Sciences.
Since 2001, Dr. Bennett publishes the world's first English language kendo magazine 'Kendo World'. He holds the grade of renshi 6th dan in kendo, 5th dan in iaido and 4th dan in naginata. Ever since the 8th Kendo World Championships in Toronto, Canada, in June 1991, he is a member of the New Zealand kendo team.
Individual presentation panelists
"A Study of the Attitudes of New Zealand Martial Artists in Regards to the Concept of 'Rei' :An Analysis of Kendo Practitioners" (PDF 1.5MB)
Publications
Monographs
Nihon mita mama, Budo mita mama (Japan as I see it: Budo as I see it), Nihon Budokan, 2001
Boku wa budo furiiku ya! (I'm a Budo Freak!), Shogakkan, 2006
Bushi no etosu to sono ayumi: Bushido no shakaigakuteki kosatsu (Ethics of the Bushi and its History: A Sociological Examination of Bushido), Shibunkaku shuppan, 2008 (not yet released)
Co-author
Kuge to buke (Court Nobility and Samurai), Shibunkaku shuppan, 2005
Budo no rekishi to sono seishin (The History of Budo and its Spirit), International Budo University, 2008
Theses and articles
'Bushido no teigi to tsuikyu' (In search of a definition of Bushido), PhD thesis, Kyoto University, September 2001
'Bushi bunka no shocho taikei - meiyo no kosatsu' (The Role of Honor in the Symbolic Complex of Bushi Culture), Nihon Bunka Kankyoron Koza Kiyo (Journal of Japanese Cultural Environment Studies), Nr. 3, p. 101-115, December 2001
'Bujutsu wo tsujite no bushi no shukyoteki na taiken' (The Religious Experience of Bushi Through Participation in Bujutsu), Shakai Shisutemu Kenkyu (Social System Research), Nr. 4, p. 151-167, December 2001
'The Importance of "Rei" in Kendo', Kendo World Journal, Vol. 1 Issue #4, p. 67-69, KW Publications, July 2002
'Naginata no kokusai fukyu ni kansuru shomondai dai ikkai: Seishin shuyo kata to shite no gaikokujin aikoka no ishiki - toku ni "rei" ni taisuru rikai ni tsuite' (Problematics concerning naginata's international dispersal 1: a foreign lover's understanding of it as a way of spiritual cultivation - specifically on "Rei"), Budogaku Kenkyu (Budo Research), Japanese Academy of Budo Naginata Workgroup, January 2004
'Kendo no Kurobune - Kankoku' (Kendo's Black Ship - Korea), Nihon no kyoiku ni budo wo: Niju isseiki ni shingitai wo kitaeru (Budo for Japan's Educational System: Training the Mind, Technique and Body in the 21st Century), Meiji shoten, p. 336-359, September 2005
'Wasurerareta eikoku kenshi' (Forgotten English Swordsmen), Teikyo Daigaku Bungakubu Kiyo Nihon Bunkagaku (Teikyo University, Proceedings of the Faculty of Arts, Japanese Cultural Studies), Nr. 38, p. 187-198, April 2007
Etc.